Lily Sanderson has a secret, and it's not that she has a huge crush on gorgeous swimming god Brody Bennett, who makes her heart beat flipper-fast. Unrequited love is hard enough when you're a normal teenage girl, but when you're half human, half mermaid, like Lily, there's no such thing as a simple crush.

Lily's mermaid identity is a secret that can't get out, since she's not just any mermaid—she's a Thalassinian princess. When Lily found out three years ago that her mother was actually a human, she finally realized why she didn't feel quite at home in Thalassinia, and she's been living on land and going to Seaview High School ever since, hoping to find where she truly belongs. Sure, land has its problems—like her obnoxious biker-boy neighbor, Quince Fletcher—but it has that one major perk: Brody. The problem is, mermaids aren't really the casual dating type—the instant they "bond," it's for life.

When Lily's attempt to win Brody's love leads to a tsunami-sized case of mistaken identity, she is in for a tidal wave of relationship drama, and she finds out, quick as a tailfin flick, that happily ever after never sails quite as smoothly as you planned.
My Thoughts:
I have to say I was blown away by this lovely fantasy. Omg, I wasn't head over heels until like like the 20th page then it was a done deal. Her character, her plot, her love scenes . . . It reminds me of why I love YA fiction. Seriously. I love mermaids and I love how she created a whole new world for them. I will always appreciate an author when they recreate an old fairy tale and she did an excellent job. Not only was it authentic but it was beautiful.
I know that lately I've been going for the dark fantasy types like The Replacement and Hush, Hush but this is where I orginally started falling in love with books: YA Fantasy and Science Fiction. It brings me back to a time where I loved the simplicity and the fluidity of fantasy. The fact I could escape and confront my fantasies and my real life problems all at the same time is just lovely.
But let's break it down, shall we, as to why I love this fish tale.
See what I did there? Fish tale?! Ha!
Anyway, moving along without the corny jokes . . .
Plot: I have to say this is the weakest point for Tera Lnyn Childs. I knew what was going to happen from beginning to end. I really did. I don't think it would take a scientist to figure out what would happen next. But there were some twists and turns in there that I wasn't expecting.
You know what this plot reminded me of? Just a tad?
Taming of the Shrew.
I know so English teacher of me, but it seriously does. I would love for my students to do a comparison . . .
Did I hear moans out there!? *strict teacher scowl*
Much better. Anyway . . .
Characters: I have to say I love Quince. And I like Lily. Don't like the name Lily because it reminds me of Meg Cabot's Lily in Princess Diaries and she was a real pain in the neck, but other then that. I love the characters.
I like her best friends too. They are just what she needs Peri and Shannen. I love that one is in her sea and one is on land. I kinda like this contrast she creates . . . Well, I'll deal with the settings later.
The one thing that threw me in a loop was that the main character was European American. Well, if you look at the gorgeous cover, it seems like the main character is Asian American. So that disappointed me. I was like, "Finally a mermaid story from a minority! This is should be exciting!"
And it's like, "Nope, no minorities here." *huge dramatic sigh*
And I know this isn't the authors fault since she doesn't have any control over the cover and who is on the cover but it still disappointed me.
Another thing that disappointed me about her characters: Brody. He seemed like such a stereotype of the popular jock type.
But other then that, I liked the characters and how they interacted with each other for the most part. Most of the interactions between Lily and Quince made me laugh. Some of the things Quince does is just so obvious and so funny it makes me laugh! So yeah, there are some moments where I know you guys will just love. Anyway, next section!
Dialogue: You know the one thing that drove me crazy about her dialogue: Princess. I get the irony that Quince calls her princess and I like the nickname but it seems like he uses it ALOT.
Other then that, the dialogue was super realistic. Like the conversations between Quince and Lily just felt like I was standing right outside the bathroom stall listening to their conversation.
Yep, a bathroom stall. I'm not going to say why and what happened. You'll have to read the book! :)
Oh, I love how Quince kept tripping over Brodys last name. Kept calling him Benson. Which reminded me of . . . Drumroll please.
*durms start to roll*
Freddy Benson!
I don't know if Tera Lynn Childs did it on purpose, but every time he said that, I just saw him so clearly it made me laugh!
:)
Also, I love some of the catch phrases Lily uses! I wonder how the author came up with them! Now I just want to scream Damselfish every time somebody gets on my nerves instead of saying omg! It's SOO catchy!
At first I tripped over some of the fishy phrases (see what I did there? Fishy!? Ah, forget about it) but once I got the hang of it, I loved them. And you can tell on page one that her phrasing is interesting. So yeah. That's all I will say about it.
Setting: I LOVE the setting. Some of it went over my head, like the mermaid world, Thalassinia. Now I know how people feel when they try to spell Iwishacana!
:D
Anyway, I loved the mermaid world but yeah some of it I couldn't really imagine if that sounds funny. Maybe I was reading it waaaay too fast which I admit I was since something else was going on, but it was still fascinating. I have to say though, it reminds me of an interesting clash of Spongebob Squarepants and The Little Mermaid with a dash of more beauty.
Not that the whole book reminded me of The Little Mermaid. There were some parts that did, but there was never a time where I thought she ripped off the Disney movie. She even admitted in the book that some of the aspirations of the main character were just like in The Little Mermaid. But the way she stated it sounded cute and funny and not like ha, I'm ripping off that movie! So I wouldn't worry about it.
Oh, and the high school Seaview (get it? Sea View?! What? You don't like corny jokes?! *sigh* I did warn you) is very realistic. The cattiness. The awkward life in high school. It def reminds me why I love being a a high school teacher and not the student.
Not that high school was terrible for me since I was invisible, but still. Ugh.
Ending: I have to say, the ending was just so simplistic and yet beautiful. It was the perfect ending.
I know, let's cue the angels.
*angels singing hallelujah*
It's pretty rare when I love an ending but this one had the beauty and the perfection ending that was like Easy A perfect ending.
If you haven't watched that movie, I demand, yes demand, that you watch it. Especially if you love funny movies. Not to mention, Emma Stone is a lovely actress.
Anyway, Forgive My Fins was a great fun read. I read it like in a day.
Yep, I was hooked!
Get it hooked?! See what I did there?!
:P
Anyway, last category: Recommendations
Would I recommend this to person who is addicted to The Little Mermaid and other fish tales (Like that other merman movie by Disney Channel, 17 or something like that)?
Absolutely!
Mermaid and Merman fans will EAT THIS BOOK!! Seriously. It's so serious that it needed two exclamation points. :) Yeah buddy!
Would I recommend this book to a guy?
Maybe. Quince is such a loveable character and such a guy that I think guys would enjoy this. It's from a girl's perspective so it might be a bit tricky but Idk, I just have a feeling a guy might venture out on a limb to read this.
Idk though, it's just a thought.
Would I recommend this to YA lovers?
Uh YEAH! Any YA lover would love this book. Even if the person isn't a big fan of fantasy, I think they will like it. I can practically guarantee it. Not really, but I think any YA lover should give this book a shot.
Would I recommend this book to practically everyone?
Probably since it appeals to a variety of people, but Idk if lovers of adult fiction or nonfiction would like this book. But I def think a lot of people who haven't ventured into different genres should start with this. It's a good base to jump off of.
Anyway, I got a little curious about this author and guess what I found?!!?!?!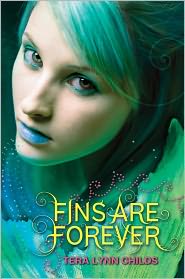 *cheerleader shriek with a high kick*
Man, I felt that one to my toes and I'm not even a cheerleader!! :)
Anyway, yes there's a sequel which I figured after reading the ending.
Hilary Duff take notes: This is how you resolve a conflict in the book and bring it to a close while eluding to a sequel. Very simple. Somewhat.
And yes, I'm still upset with her ending but that's beside the point.
I would put the blurb of the second book up here, but it would ruin it for you but I might review the second book. :) You never know.
Until next time, I bid you good reading!