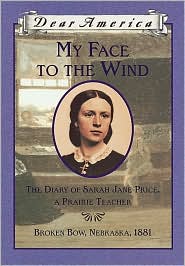 Blurb:
In the late 1870s, many young teachers traveled West to earn money and make a new life for themselves, despite the schools being inadequate at best. Some returned home, unable to endure the hardships of prairie life, but others were more committed to their work. Sarah Jane Price stayed, braving the rough conditions of the West. Written by Newbery Honor Author Jim Murphy, this is Sarah Jane Price's story.
My Thoughts:
Who remembers reading Dear America in middle school, high school or when you were younger in general?
*some people raise their hands, some with glee*
Well, I never read this series when I was younger. This is actually my first time reading a book in this series, so I'm pretty excited to share this experience with you guys. I have read the Royalty Diaries series, so I knew about these books and heard about them before.
And I have to say, I loved this book.
I really did and I got it at a discount too (refer to
Library Haul
post) so my pocket book is happy too! So the purchase was worth it.
Why did I fall in love with this book? I have to say the constant fact that anytime she faced a struggle she fought against it. She's definitely a survivor and I love that.
Maybe you've noticed the fact that I love strong women main characters. Maybe because I hate whiny main characters and love strong types. I thought I would only like women characters for a long time but The Replacement changed my mind.
But back to this book: It';s lovely and I wasn't disappointed. Time to go category by category!
Plot: I really appreciated the way the plot moved. I was wondering how the author would go through exposition, climax, and resolution but he hit every single mark. I especially appreciate the climax of the book. I won't give too much away, but it just showed her character more and more throughout the book.
Character: As I mentioned before, I really really loved the main character. At first, I didn't like her. She sounded like, "Woe is me, woe is me!!" But as the book continued onward, I could see why she felt and acted the way she did. And then I really fell for her as she struggled through tough times and handled it with class.
Her best friend seemed interesting but she's not very memorable. I like her though. Just the perfect side character for Sarah Jane.
Dialogue: Very realistic. I didn't like the fact that some of the conversations weren't in quotation marks. It got a little bit confusing for me. I was like, who's talking and what are they talking about. But the accents and the speak overall was realistic to the time and age of the period.
Not that I'm a historian or anything. That's one aspect I'm a little weak on. I have a basic understanding of history and I love reading about it, but I'm working on it, lol.
Anyway, it seemed authentic to me and I loved hearing it.
Setting: I don't know if you guys are aware of this, but I love to read books about places that are foreign to me. I do. I love travelling with a book to strange places.
To say Nebraska is foreign to me is an understatement. I've never been that far out in the country before, so I was excited to travel with Sarah Jane to Nebraska. And it was def an adventure.
With all of that said, I like the setting and it was interesting to see how the setting was such an integral part of the book. I kinda like that.
The title: I know for some of you who read that title, you're like huh!? But without revealing too much, you'll understand the title as you read the book and it'll become a symbol of something so much more then when you started out reading it. So yeah.
Would I recommend this book to anyone?
To people who love historical fiction, absolutely.
To any teen, I would falter. It's not like any of the topics weren't child friendly, but I think the reading level would be a bit above for some of the students I would teach. And some of them might not understand the historical context before reading it.
But if they really loved history and loved a good story, then abosultely.
To anyone who love a good underdog story:
Yes, yes, yes!
I love this book and I'm so glad I read it.
Are you wondering which books are coming up next?
*wiggles eyebrows*
Well, here's the list:
Blurb:
Lily Sanderson has a secret, and it's not that she has a huge crush on gorgeous swimming god Brody Bennett, who makes her heart beat flipper-fast. Unrequited love is hard enough when you're a normal teenage girl, but when you're half human, half mermaid, like Lily, there's no such thing as a simple crush.
Lily's mermaid identity is a secret that can't get out, since she's not just any mermaid—she's a Thalassinian princess. When Lily found out three years ago that her mother was actually a human, she finally realized why she didn't feel quite at home in Thalassinia, and she's been living on land and going to Seaview High School ever since, hoping to find where she truly belongs. Sure, land has its problems—like her obnoxious biker-boy neighbor, Quince Fletcher—but it has that one major perk: Brody. The problem is, mermaids aren't really the casual dating type—the instant they "bond," it's for life.
When Lily's attempt to win Brody's love leads to a tsunami-sized case of mistaken identity, she is in for a tidal wave of relationship drama, and she finds out, quick as a tailfin flick, that happily ever after never sails quite as smoothly as you planned.
My First Thoughts:
Okay, I have to say I'm addicted to this book. I see some problems and I kinda know what's going to happen, and I hope the author is going to prove me wrong. I cannot WAIT until I can share this novel with you.
I can tell you already though: I love what she has done with the mermaid myth. And that's all I'm going to tell you. I guess you'll have to check back (hopefully) next week for the book review. :)
Blurb:
Efe Sagay happily accepts a transfer to Nigeria thinking there should be nothing about her new city to remind her of the heartbreak with ex-fiance, Kevwe Mukoro. But she is facing Kevwe seven months later, swamped by emotions she'd thought were dead. When Kevwe claims he's never stopped loving her, and asks why she abandoned him, Efe stomps off, incensed. Wasn't it the other way around?
My First Thoughts:
Well, I have to say, I like it but I see a lot of problems that are nagging at me. But maybe it'll get better. Hopefully, (crossing fingers, toes and everything else that's crossable) I'll review this like next week. I'm halfway through it right now, I'm hoping I can conquer the next half by next week. Hopefully the review will be up by late next week or early the following week.
Then once I'm done with this book, I'll be reviewing this book: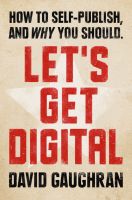 Blurb:
This guide contains over 60,000 words of essays, articles, and how-to guides, as well as contributions from 33 bestselling indie authors including J Carson Black, Bob Mayer, Victorine Lieske, Mark Edwards, and many more. If you are considering self-publishing, if you need to breathe life into your flagging sales, "Let's Get Digital: How To Self-Publish, And Why You Should" will explain it all.
First Impressions:
It has a lot of good reviews, the price is reasonable and it looks interesting. I got this book off library thing and I thought this would be an excellent opportunity to give you guys a second glance at self-publishing from someone else's experience. Especially since my journey is sorta stopped right now, lol.
I know I hear some groans from the peanut gallery that maybe you guys want to strictly look at the pretty YA books, but I like to delve into non fiction sometimes and I did promise to review this book. So I'm going to do it. And you're going to like it! :D
I'm particularly excited about this series that I'm going to review: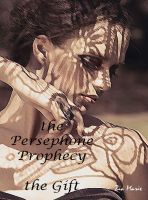 Blurb:
Sometimes, you choose to be the hero. Sometimes, it chooses you.
Sixteen-year-old Alexandra Williams is adjusting to life as an only child following the disappearance of her older brother, Ben, two years ago. She has battled alcoholism and is constantly dealing with her own feelings of guilt and weakness in the aftermath.
On the last night of her summer vacation, she and her boyfriend, Andrew, come across a car wreck and discover Quinn Reyes trapped inside. With a touch of his hand, her already fragile world is shaken, especially when demon hunter Milo Montgomery comes to town looking for her. She learns that Milo and Quinn were searching for a person nicknamed The Persephone Prophecy because of his or her ability to walk between the human world and the demon underworld.
Thrust into a new existence, Alexandra will be forced to confront her own demons and discover that she is far stronger than she could have ever imagined.Introducing a dark new young adult trilogy packed with romance, action and demon lore. The first book in the Persephone Prophecy trilogy.
My First Impressions:
Sounds exciting right?! Ooh, I can't wait until I get my hands on these lovely books. Just fyi, I'll be reviewing both the second and the first book. Since I won the second book on Library Thing (thank you Library Thing!) and didn't win the first, I got both!
I have to say with my first interactions with Zia Marie, I just think she's a classy author and I hope to maintain a good book reviewer/book lover to author relationship with this author. I look forward to reading her books. :)
Do you want to know the rest of my TBR Pile?! Well, I'm not going to reveal it to you! :)
*cue evil laughter*
I guess y'all will have to wait for the goodies I have until I put the TBR Pile Page on here. I have to find the time to set it up and everything. Maybe by the end of this month, probably sooner.
But anyway, I hoped you enjoyed this fabulously long post of mine because I'm wiped out. TGIF and enjoy your weekend!