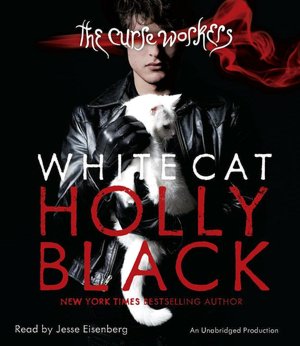 Cassel comes from a family of curse workers—people who have the power to change your emotions, your memories, your luck, by the slightest touch of their hands. And since curse work is illegal, they're all criminals. Many become mobsters and con artists. But not Cassel. He hasn't got magic, so he's an outsider, the straight kid in a crooked family. You just have to ignore one small detail—he killed his best friend, Lila, three years ago.
Cassel has carefully built up a façade of normalcy, blending into the crowd. But his façade starts to crumble when he finds himself sleepwalking, propelled into the night by terrifying dreams about a white cat that wants to tell him something. He's noticing other disturbing things too, including the strange behavior of his two brothers. They are keeping secrets from him. As Cassel begins to suspect he's part of a huge con game, he must unravel his past and his memories. To find out the truth, Cassel will have to outcon the conmen.
I have to say I love the concept but I wasn't too impressed by the book. The main character I didn't fall in love with, the plot is boring (until the end since I read the back reviews saying the ending was unpredicable), and some of it was unrealistic and not really explained well.
I know, it's a mouthful and I know I usually wait for the end to tell you all this, but I couldn't help it. The book was just such a disappointment to me.
Once again, I fell in love with an awesome cover and awesome concept where the author failed to deliver. *sigh*
But I'll break it down even further, and maybe you guys will give it a chance.
Characters: Sorry folks, but just because a guy is hot doesn't mean I like him.
To tell you the truth, I hate guys who are punks (wussies and the other word that rhymes with it) and unfortunately, Cassel is a wuss. The biggest one ever and I can't stand him for it.
Additionally, Cassel sounds like a girl. The first time I heard his voice, I could have sworn it was a girl. But I knew it was suppose to be guy since there was a guy on the cover.
So I was confused. The name didn't help. So yeah, I don't like the main character.
I know somebody is going to ask, "Don't you any of the characters?"
To be honest, I did sorta like Phillip for a bit since he seemed the most real and I liked Barron until the end.
I thought I would like Lila but I don't. I don't like it when people manipulate other people like that. I don't like it when a girl knows a guy likes them and isn't upfront and honest with them. It's one thing if the girl doesn't like the guy. That's fine. But when you play with their emotions like she did, it makes her a wench.
So I really, really loathed Lila.
Dialogue: Once again when Cassel talks, he sounds like a girl.
Everybody else sounded fine.
Plot: Like I said before, it was BORING! It just wasn't what I wanted or what I thought it was. I was ready to be swept away into a paranormal mystery with a touch of romance.
Instead I got realistic fiction half way with a very light touch of fantasy and mystery.
And some Shakespeare tragedy style, "Woe is me!"
Setting: Interesting, but I know Holly Black mentioned the place but I couldn't remember where it was. New Jersey, I think.
Ending: Don't be fooled by the other reviews: The ending is predicable. I was hoping for a nice twist with maybe a touch of feminism. But nope. Same old, same old. Some things never change.
Overall: Do you recommend this book?
This is a hard choice. I really would like to say check this out, this is an awesome book.
But it left me with a bad taste in my mouth. I think, overall, if you don't mind the characters then yes. Other then that, if you're like, a stickler for wussy men, wenchy women, then no. I wouldn't recommend it at all.
I guess I expected so much more from an author like Holly Black. She's supposed to be this big name author, but she just disappointed me so much with this book. I really looked forward to reading it, but it just turned out all wrong for me.
Maybe y'all might like it, but for me, this book just didn't hit the spot. Maybe Smokin' Seventeen by Janet Evanovich will! :) Especially since I fully admit: I'm addicted to the Stephanie Plum series.