Synopsis:
Violet Ambrose is grappling with two major issues: Jay Heaton and her morbid secret ability. While the sixteen-year-old is confused by her new feelings for her best friend since childhood, she is more disturbed by her "power" to sense dead bodies or at least those that have been murdered. Since she was a little girl, she has felt the echoes the dead leave behind in the world . . . and the imprints that attach to their killers.
Violet has never considered her strange talent to be a gift; it mostly just led her to find dead birds her cat left for her. But now that a serial killer is terrorizing her small town, and the echoes of the local girls he's claimed haunt her daily, Violet realizes she might be the only person who can stop him.
Despite his fierce protectiveness over her, Jay reluctantly agrees to help Violet find the murderer and Violet is unnerved by her hope that Jay's intentions are much more than friendly. But even as she's falling intensely in love, Violet is getting closer and closer to discovering a killer . . . and becoming his prey herself.
My Thoughts:
I was tempted by the gorgeous cover and the cool superpower of knowing when people have been murdered. As you guys probably know, I love murder books or suspense books so I loved the fact that I could have this in young adult form. It even had great reviews and I finally found it in my library. Then I read it.
I was really disappointed.
The plot was okay, the characters were believe-able, and the ending was okay. So what was the main issue? Something was missing. The spark. The wild factor. The yank I appreciate so much when I read a book that forces me to read it. The only thing that really kept me reading was to bring the murderer to justice to be honest. The writing was okay. It just seemed like this was her book that needed some more editing and help. The relationship between Violet and Jay was great in the beginning. I could really relate since I was in a similar situation myself but then when it hit a certain part, I stopped believing it. I really did. I knew in the beginning what was going to happen, but I really think . . . I'll just say it.
****SPOILER ALERT****
Okay so I knew in the beginning that Jay liked Violet. I just knew it. They way he was looking at her when that boy asked Violet to the dance or whatever, that was definitely a dead giveaway. Not to mention the way he was SUPER protective of her and that they've been friends for forever and Violet even mentioned the change in their relationship. And if she noticed it then it's more then likely that Jay noticed it to. So I wasn't surprised by that. Not one little bit. I hated, detested the fact that Kimberly Derting rushed right into the kissing and making out and the development of their relationship. It seemed like one day they were lovers then in the next breath they were making out.
I also didn't like the reason why Jay and Violet didn't get together in the first place was over pride. Didn't like that one little bit. Plus I didn't fully believe that. Something was else was at play and I didn't appreciate not knowing what it was. Or maybe it was the way she presented the reason? I'm not sure what it was but I didn't believe it. I also didn't like the fact that she revealed that Jay liked her in the very beginning. Maybe I could just tell, but that whole situation with the boy asking Violet out on a date made it super obvious that Jay liked her. And I wished she could have built up the relationship, showed us how their relationship has changed a little bit just dropping little hints that he liked her. Not bomb the whole field and scream it at the top of her lungs that Jay liked Violet. It could've been done a whole lot better and brought enough friction and tension to make it worth the wait.
Better yet, I wished she would've waited until the second book to reveal his feelings for her. I think it would have made the difference, the tug to read the second book. Maybe the ending was too perfect. Too much of a convenience. Everything she wanted to happen, did happen at the near end of the book and I think there should've been still some tension left and there wasn't.
*****END OF SPOILER*****
Okay now that is out of system, I feel better. I think that was the main problem I had with the book. The murder plot was fine and had enough suspense to keep me interested. I just think she needed some help with developing relationships in the book and the pace of the book was off. It drove me crazy. It seemed like she had a good pace in the beginning but rushed the end. Then as a result she rushed everything else. She really needed someone to help her with that. I would've gladly helped her.
Now the main crucial question: Would I read the next book in her series?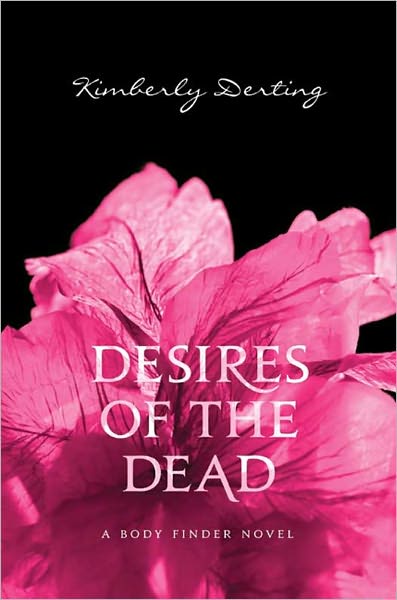 I might give her another chance. I see the potential in her writing and I think it could be brought out with more practice. So I might. Besides, the things I mentioned that are wrong with her first book are very easy to fix. It just made me so angry that she got traditionally published and she has all of this back up and yet her book turned out wrong when it has so much potential to be a great and exciting read. And it went through editing to print with all of these mistakes and nobody thought: Hey it's rushed! Let's fix this!
Another imperative question: Would I recommend the book?
That's a trap because if it's based on the main part of the book, then yes. Please feel free to read and enjoy the murder aspect of it and paranormal stuff about it. If it was based on the personal life and how it was developed then no.
It just depends if you can deal with the mistakes. A lot of people could since it got a lot of great reviews. But if you're like me, a perfectionist, then it will drive you crazy.