Synopsis:
Do twins begin in the womb?

Or in a better place?
Kaeleigh and Raeanne are identical down to the dimple. As daughters of a district-court judge father and a politician mother, they are an all-American family -- on the surface. Behind the facade each sister has her own dark secret, and that's where their differences begin.
For Kaeleigh, she's the misplaced focus of Daddy's love, intended for a mother whose presence on the campaign trail means absence at home. All that Raeanne sees is Daddy playing a game of favorites -- and she is losing. If she has to lose, she will do it on her own terms, so she chooses drugs, alcohol, and sex.
Secrets like the ones the twins are harboring are not meant to be kept -- from each other or anyone else. Pretty soon it's obvious that neither sister can handle it alone, and one sister must step up to save the other, but the question is -- who?
My Thoughts:
I've always wanted to read an Ellen Hopkins book. The idea that a whole story could be comprised in poems fascinated me so I finally picked it up at the library. At first I was struggling to decipher between the two personalities of the twins, but by the middle of the book, I really got into it.
I loved the cleverness of how she interweaved the ending of one of the twins point of view into another. The whole book was cleverly designed actually. She made it seem so effortless as she told the story and crafted her poems in two completely different stories.
And there's a huge twist that smacked me so hard I saw stars. It's not that I didn't see it coming. I had a feeling but it still shocked me. I just sat there starring at the page going huh? When I finished the book, I was still in shock. I could see the foreshadowing of it and how she created it from the word go. It was incredible.
She got me hooked after that. I now have one of her books in my tbr pile.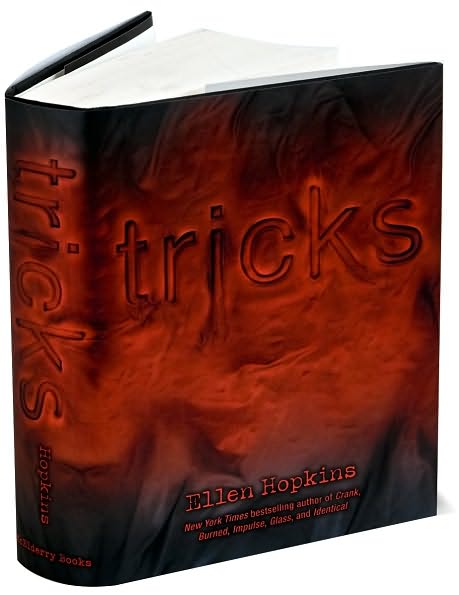 I can't wait to read this.

So the main question: Would I recommend Identical?

Absolutely! As a fellow part time poet, I can say that she inspired me to think about poems in a whole new way. So I encourage people to read this book along with any book by Ellen Hopkins.

Anybody love this book or read Tricks by Ellen Hopkins? I'd love to hear from you!