It's Monday! What Are You Reading is weekly meme hosted by Book Journey to tell everyone what you have read or planning to read. If you would like to join in or see other blogs participating click on the icon above.
Now that I've finished V, I can now read the TBR piles in my room. Here are the books I'm reading or planning to read:
1. Post-Mortem by Patricia Cornwell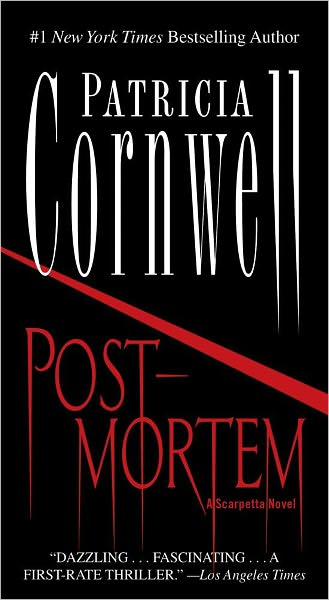 Synopsis:
Under cover of night in Richmond, Virginia, a human monster strikes, leaving a gruesome trail of stranglings that has paralyzed the city. Medical examiner Kay Scarpetta suspects the worst: a deliberate campaign by a brilliant serial killer whose signature offers precious few clues. With an unerring eye, she calls on the latest advances in forensic research to unmask the madman. But this investigation will test Kay like no other, because it's being sabotaged from within—and someone wants her dead.
I started this book a little while ago, like in two months ago but I had to return it back to the library before I could finish it. Bummer. So once I got some money in my pocket, I bought it along with some other books. :) Anyway, so far it's very interesting. It's not nearly as scientific as Kathy Reichs books but it's still just as forensic sciency as her books. But there is a definite difference.
2. Fat Camp by Deborah Blumenthal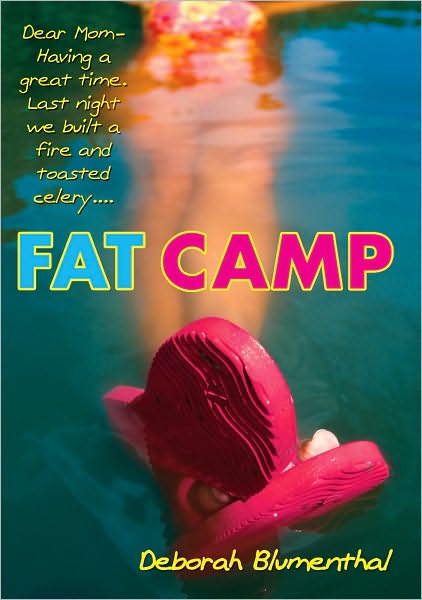 Synopsis:
Camp! Freedom, first kisses, summer fun...but not at Camp Calliope, a prison camp for the overweight. That's where Cam Phillips' parents have shipped her off to eat controlled portions, endure rigorous exercise, and sleep in a bunk full of girls who'd rather exchange recipes than ghost stories and gossip. Except for one cool girl from Texas, Faith Masters-who's normal enough to help her stay sane and temporarily replace her best friend, Evie. And then there's Jesse-the only thing close enough to drool-worthy on the camp's menu. Cam can totally relate to him, since his basketball-coach Dad sounds a lot like her perfectly thin, successful Mom. It looks like for the next eight weeks, only the issues (and not the food) on Cam's plate will be supersized.
Can I be honest with y'all? I got this book on discount and I liked the cover. So I thought I would give it a whirl. That's pretty much the only reason I got this book. Oh, and I got it at BooksaMillion. Fav place to shop, second only to shopping at library sales. Ah, I love discounted books.
3. Esperanza Rising by Pam Munoz Ryan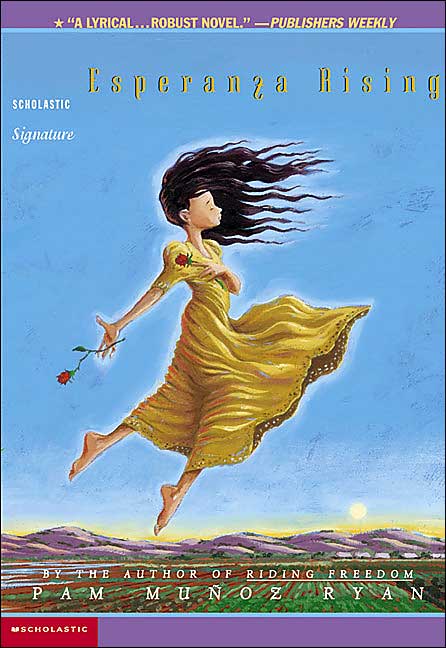 Synopsis:
Esperanza thought she'd always live with her family on their ranch in Mexico--she'd always have fancy dresses, a beautiful home, & servants. But a sudden tragedy forces Esperanza and Mama to flee to California during the Great Depression, and to settle in a camp for Mexican farm workers. Esperanza isn't ready for the hard labor, financial struggles, or lack of acceptance she now faces. When their new life is threatened, Esperanza must find a way to rise above her difficult circumstances--Mama's life and her own depend on it.
Another great discounted book at a library book sale. I was actually looking for Bruce Coville books with the old covers on that were drawn by Katherine Coville. I love those covers! It brings back memories . . . Anyway, I just picked this up since it had an award on it, most of the time a good sign, and a person of color as a main character. You see, I'm trying to expand my classroom library with books that have people of color as the main characters so that the students who are, let's say Hispanic American or African American, can identify with character's cultural identity.
4. Inkheart by Cornelia Funke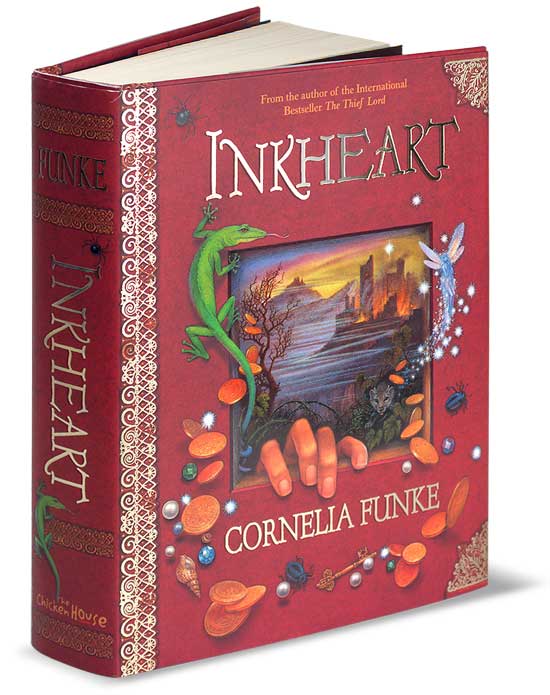 Synopsis:
One cruel night, Meggie's father, Mo, reads aloud from INKHEART, and an evil ruler named Capricorn escapes the boundaries of fiction, landing instead in their living room. Suddenly, Meggie's in the middle of the kind of adventure she thought only took place in fairy tales. Somehow she must master the magic that has conjured up this nightmare. Can she change the course of the story that has changed her life forever?
I've heard nothing but good things about this book and the series in general so I decided to try to borrow it from the library. Problem: They didn't have the first book in the series. But in a weird matter of circumstance, I found it, snatched it, and bought it at a library book sale. :) I even got the whole series of The Unfortunate Events once. Best discount ever! Got the whole set for four bucks. Incredible!
Can't you tell I love discounts?
5 and 6. The Royal Diaries Series: Catherine by Kristiana Gregory and Kazunomiya by Kathryn Lasky
Synopsis:
Fourteen-year-old Prussian princess Sophia finds herself entangled in her mother's efforts to arrange a marriage between Sophia and Charles-Peter, a young German duke and nephew of the Russian empress Elizabeth. As Sophia's mother moves to make the match, she and Sophia must travel from their humble home in Zerbst, Prussia, to Russia--the kingdom of Elizabeth. There, Sophia is renamed Catherine and married to Charles-Peter, but she watches helplessly as her family is torn from her, her own mother is involved in a spying ring against the empress, and all that is familiar to her disappears.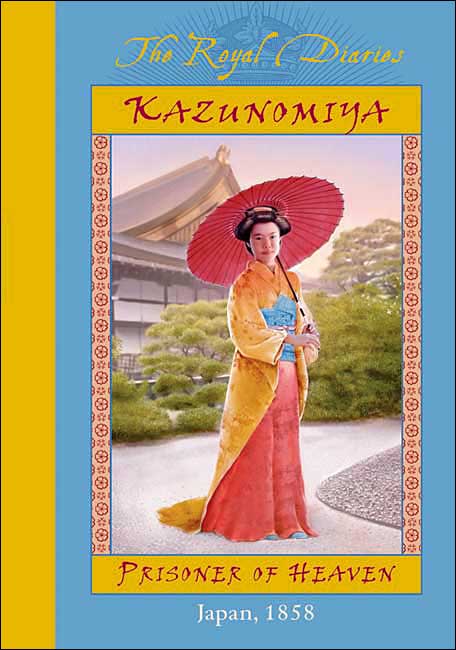 Synopsis:
Kazunomiya, along with her royal family, is thought to be a divinity, descended from the goddess of the sun, and she lives an extremely sheltered life. However, when a Japanese general signs a treaty with the white-faced men from America, uncertainty and turmoil erupt in the kingdom. But the external threats do not compare to the tangled intrigue, romance, and politics that dominate the imperial palace, as wives and queens plot to destroy Kazunomiya and her mother.
Man, I'm starting to realize how much I go to these library book sales. Practically all of the books in my TBR pile are from library book sales. I loved this series when I was in middle school and couldn't remember why I stopped reading the series but I'm picking it back up again.
7. The Collectors by David Baldacci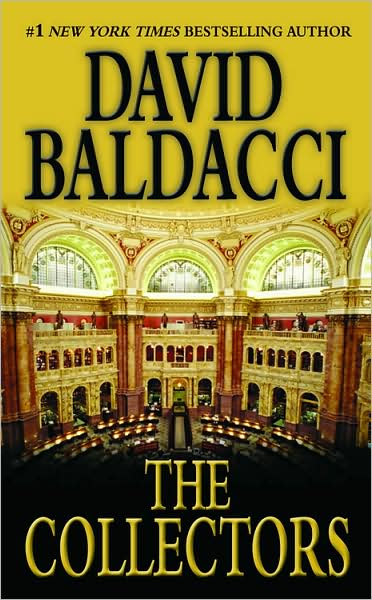 Synopsis:
Oliver Stone and his Camel Club are in a race to stop a man who is determined to auction off America to the highest bidder: Roger Seagraves is selling America to her enemies, one devastating secret at a time. On a local level, Annabelle Conroy, the most gifted con artist of her generation, is becoming a bit of a Robin Hood as she plots a monumental scam against one of the most ruthless businessmen on earth. As the killings on both fronts mount, the Camel Club fights the most deadly foes they've ever faced.
I picked up The Camel Club and The Collectors by David Baldacci at a book sale. So I finished The Camel Club, liked it a lot and now I'm going to read The Collectors. It took a lot of energy to read the first one, especially with all of the abbreviations, so I'm going to wait a while before trying to conquer the second book in the series.
8. Message From Forever by Marlo Morgan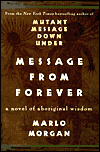 Synopsis:
Following her Mutant Message Down Under, Marlo Morgan's new novel is a tale of self-enlightenment about aboriginal twins separated at birth and the search for roots that reunites them from opposite sides of the globe. Once more Morgan unveils the inspiring aboriginal worldview while pointedly exposing the plight of an ancient race rapidly becoming extinct as a result of more than two hundred years of systematic discrimination.
I know there is a lot of controversy about this series. Is it real? Is it fiction? Either way, I loved the first book in the series and so I'm going to try read the second book. Ever since I watched Australia with Nicole Kidman and Hugh Jackson . . .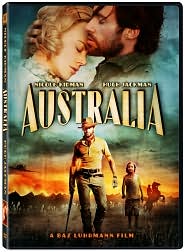 Great movie!
I've been curious about aboriginal culture and everything dealing with Australian history. So I picked up Marlo Morgan's book.
9. The Replacement by Brenna Yovanoff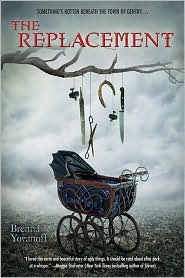 Synopsis:
Mackie Doyle is not one of us. Though he lives in the small town of Gentry, he comes from a world of tunnels and black murky water, a world of living dead girls ruled by a little tattooed princess. He is a Replacement—left in the crib of a human baby sixteen years ago. Now, because of fatal allergies to iron, blood, and consecrated ground, Mackie is fighting to survive in the human world.
Mackie would give anything to live among us, to practice on his bass or spend time with his crush, Tate. But when Tate's baby sister goes missing, Mackie is drawn irrevocably into the underworld of Gentry, known as Mayhem. He must face the dark creatures of the Slag Heaps and find his rightful place, in our world, or theirs.
Edward Scissorhands meets The Catcher in the Rye in this wildly imaginative and frighteningly beautiful horror novel about an unusual boy and his search for a place to belong.
This book seemed to the type of book that my stories are heading towards, something like dark fantasy but for a younger crowd. So I'm going to look for in the library. Hopefully I can find it, crossing fingers and crossing toes.
10. Paranormalcy by Kiersten White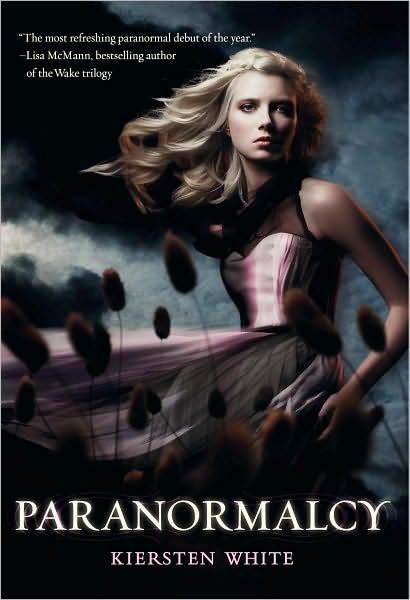 Synopsis:
Evie's always thought of herself as a normal teenager, even though she works for the International Paranormal Containment Agency, her ex-boyfriend is a faerie, she's falling for a shape-shifter, and she's the only person who can see through paranormals' glamours.
But Evie's about to realize that she may very well be at the center of a dark faerie prophecy promising destruction to all paranormal creatures.
So much for normal.
This sounds like my type of book, normal life with a paranormal twist. And it doesn't hurt that it's getting good reviews and the cover is fantastic. So count me in on this one too!
11. Slice of Cherry by Dia Reeves
Synopsis:
Kit and Fancy Cordelle are sisters of the best kind: best friends, best confidantes, and best accomplices. The daughters of the infamous Bonesaw Killer, Kit and Fancy are used to feeling like outsiders, and that's just the way they like it. But in Portero, where the weird and wild run rampant, the Cordelle sisters are hardly the oddest or most dangerous creatures around.
It's no surprise when Kit and Fancy start to give in to their deepest desire—the desire to kill. What starts as a fascination with slicing open and stitching up quickly spirals into a gratifying murder spree. Of course, the sisters aren't killing just anyone, only the people who truly deserve it. But the girls have learned from the mistakes of their father, and know that a shred of evidence could get them caught. So when Fancy stumbles upon a mysterious and invisible doorway to another world, she opens a door to endless possibilities….

I really loved her first book Bleeding Violet and when I saw this book in the library, I snatched it but once again, thanks to finals and all other matters of craziness senior stuff, I ran out of time to read it. But believe this: I'm definitely going to read it.

Well, that's some of my list of books to read. A little bit of everything. Now it's time to hear from you! What are you planning to read or already reading?!