This is a weekly meme hosted by YALitwit, and I thought I would join in since she is so right: There are SO many great books that I've read before I started this blog. Therefore, this is how it works:
Basically, you choose a book each week, then answer the following three questions,and post your review. Then you can add the name of your BtB book and author to the little Mr. Linky widget below, and voila!
Why did you choose this book?
When did you read this book?
Who would you recommend this book to?
So let's this party started with the book I chose: Watchmen by Alan Moore!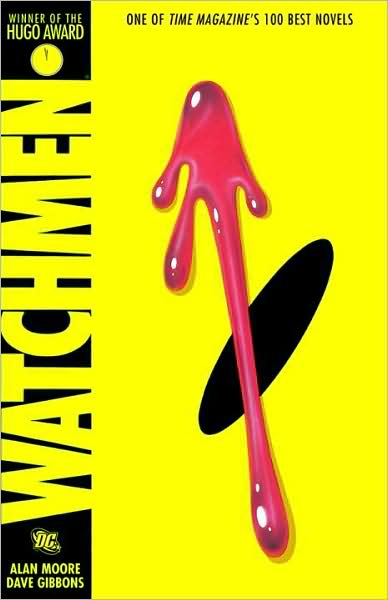 Blurb
It all begins with the paranoid delusions of a half-insane hero called Rorschach. But is Rorschach really insane or has he in fact uncovered a plot to murder super-heroes and, even worse, millions of innocent civilians? On the run from the law, Rorschach reunites with his former teammates in a desperate attempt to save the world and their lives, but what they uncover will shock them to their very core and change the face of the planet! Following two generations of masked superheroes from the close of World War II to the icy shadow of the Cold War comes this groundbreaking comic story -- the story of The Watchmen.
1. Why did I choose this book?
I picked this book because this is the first graphic novel I read. I never read a graphic novel before because, I was a snob. "Why would I want to read a book with pictures in it?!" But finally, like last summer, I wanted to explore more genres, and so I started my first graphic novel adventure with this one. I picked this one because I loved the movie so I picked up the book.
Anyway, I picked this book because I wanted to share the wonderful book with you all and what I thought of it.
2. When did I read this book?
I'd say I read this back in the summer of 2010. I'm pretty sure anyway.
3. Who would I recommend this book to?
Well, first off, I don't recommend this book to kids. It's a VERY difficult book. I didn't think it would be that difficult since I watched the movie, so I would have a basic understanding of the book.
Boy, was I wrong.
I had NO idea it was like tackling a literary classic with blinders on. But I loved every minute of trying to figure it out.
Literally after I finished it, my mind was blown into smitherins. My mind was quiet in awe. Like, "Omg, this book is SOOOO challenging that I have nothing to think about. If I even try to conquer this from a literary perspective, I wouldn't be able to tackle it."
Yes, it's that deep. And yes, I grew a whole new respect for comic book writers, manga writers and graphic novelists.
Anyway, I would recommend this book to people who want to read a challenge. If this is your first time to read a graphic novel, I wouldn't pick this one since it's pretty deep. I would start with something light hearted and funny. This literally took me a whole week to read. And I usually conquer graphic novels in a day.
That just attests to how long literary masterpiece took me to read.
Therefore, I think this would be a perfect book for English majors in college. I think it would be perfectly challenging for them.
I would recommend this book to adults, maybe some teens who could handle it (since there are some adult situations in it and it's a really high reading level).
I would love to dissect this in 12 grade AP English but that's on a teacher level, lol.
Anyway, I would also recommend this for people who have a perception on what literary is. And to others who would love to read a challenging book and loved the movie.
And if I had to rate this book, it would be a perfect 5/5. It was that great.
Oh, btw, if you didn't catch on by now, I decided not to change the website address this week. I don't think I'm changing it any time soon. Sorry you guys for the false alarm, but I need to do some research on this some more.
Hurrah for no changes! :)