Blurb
By age sixteen, Rhine Ellery has four years left to live. A botched effort to create a perfect race has left all males born with a lifespan of 25 years, and females a lifespan of 20 years--leaving the world in a state of panic. Geneticists seek a miracle antidote to restore the human race, desperate orphans crowd the population, crime and poverty have skyrocketed, and young girls are being kidnapped and sold as polygamous brides to bear more children.
When Rhine is sold as a bride, she vows to do all she can to escape. Yet her husband, Linden, is hopelessly in love with her, and Rhine can't bring herself to hate him as much as she'd like to. He opens her to a magical world of wealth and illusion she never thought existed, and it almost makes it possible to ignore the clock ticking away her short life. But Rhine quickly learns that not everything in her new husband's strange world is what it seems. Her father-in-law, an eccentric doctor bent on finding the antidote, is hoarding corpses in the basement; her fellow sister wives are to be trusted one day and feared the next; and Rhine has no way to communicate to her twin brother that she is safe and alive.
Together with one of Linden's servants, Gabriel, Rhine attempts to escape just before her seventeenth birthday. But in a world that continues to spiral into anarchy, is there any hope for freedom?
My Thoughts:
I have to say, I didn't fall head over heels with this book.
I know! So surprising, right?
The cover is gorgeous, the blurb is interested and yet . . . I couldn't get into it.
Why?
Well, let's break this down.
Plot: To me, this was predicable. I mean, I won't ruin it for y'all but I could see what would happen. It reminds me of an old romance book actually. In fact, I know which one it reminds me of.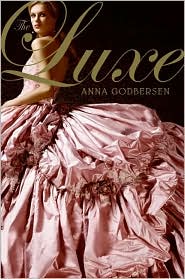 Luxe is basically a YA romance novel which takes place in the 1800s. I read this book thinking the same thing, beautiful cover, historical YA fiction. It should be a match made in heaven.
Apparently not.
I didn't even finish the book because I knew what was going to happen.
Maybe because the whole, distressed wife and distressed servant escape together plot is just plain ol' worn out. And everybody KNOWS how it's going to end.
I mean, I know it's a classic and that it's very realistic, but I just can't stand reading an old plot. Even if you put it in a new spin on it (i.e. new setting) I still know what's going to happen. I already know that it has been done. There are only so many ways you can beat a dead horse. Especially when it has been done SO many times.
Anyway, that's what I thought about the plot.
Characters: I did LOVE the characters. Especially the sister wives, Cecily, and the other two. Yeah, sorry, I can't remember their names. I know Gabriel's name, since his name is so ironic. But I'm not even going to touch that. Anyway, I loved the characters. I could identify with all of them.
Rhine! That's her name! Yeah, I liked her. Such a fighter. I love strong female lead character and she certainly had the spunk. Not enough to make me want to cheer and say she kicks ass, because she doesn't. But she did have some spunk and I like that. She was stubborn and determined. Not to mention smart.
But yeah, love the characters! There seemed to be a bigger lesson
Dialogue: It was realistic. The emotions were real from the characters in the dialogue. I bought it.
Setting: I loved the setting but the world she created wasn't very realistic.
Um, America is the only continent left after World War 3? That would never happen! We would be the first one blown to bits. I may love America and all (we are on a love/hate relationship right now) but we have a lot of enemies.
But I think DeStefano is actually pulling our leg on that one and that Americans THINK they are the only ones left but in actuality, the world is still alive and kicking.
One can only hope since if that's not the case, then someone is very ethnocentric.
Ending: Realistic and boring. Sorry, but like I said earlier, I knew what was going to happen, how it was going to happen and blah blah blah. I just wasn't into it.
I almost didn't finish it. I contemplated leaving the book.
But I didn't.
Luckily for the author, I wanted to escape reality for a few hours, so yeah.
Anyway, let's get to the final question: Would I recommend this book?
I wouldn't recommend this book to younger readers. There are A LOT of adult situations that the author mentions that 14 year olds shouldn't know about. I think the youngest the reader should go is like 15-16 year old.
But in general? I would. But with slight hesistation hoping that they will like it more then I did.
I just didn't fall in love with it.
But you know which book I'm falling for head over heels right now?!
Ahh, yes, I HEART this book right now. So dark. So haunting. So lovely. I love it! I miss this author so much that I almost cried. She writes just for me. I just know it!
:)
Anyway, I'm going to head back to Dia Reeves and hopefully, I'll have this book reviewed along with one other book.
Oh, I almost forgot!!
Are y'all on LibraryThing?!
Do you want Everblossom: A Short Story and Poetry Anthology for free?!
*head nods*
Good! Check out my book here for free!!!
http://www.librarything.com/er/giveaway/list
Don't you just love me?
:D I can tell!! And with that, I bid you good reading!