It's that time of the week again: Feature and Follow Friday!
And here's the Feature of the Week: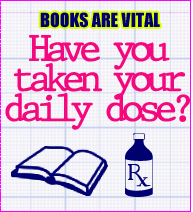 And now for this weeks question: When you've read a book, what do you do with it? (Keep it, give it away, donate it, sell it, swap it..?)
For me, it depends. If I didn't like the book, then I usually donate it to the library. I actually donated the whole Private series by Kate Brian to the library once. Since I buy from them and support them continually anyway. Besides, I love libraries. They are my second home.
Anyway, if I loved the book, I keep it for like ever. And I gaze upon and sigh and usually say, "Man that was an awesome book. Let's see if I can find any more books from that author . . ."
Usually what happens though, I borrow the book first from the library and I buy it if I really, really liked it. But I have to return it! So that's sad, but like I said, it depends on how much I lurved the book.